Why I became a Celebrant.

Hi, I am Derek McGillivray.
Why did I choose to be a celebrant?
In my capacity as A Happy Medium, where I am an intuitive life coach and complementary therapist, I discovered I had this amazing ability to foresee weddings, births and so on.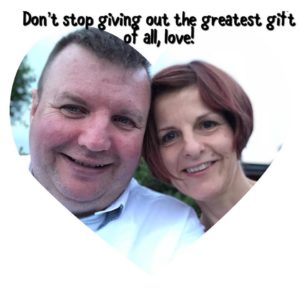 As a result, I was often asked to do wedding ceremonies, or invited to christening of new-born babies.
When at some of these events I often thought that the events did not do justice to the couple as often they didn't get what they wanted and had to follow set protocols and please Family, church, or others  etc.
So I decided to train as a Civil Celebrant. And offer the couple more options so they could be In Control off THEIR special day.
In June 2019, I completed and passed NOCN Level 3 Diploma in Celebrancy – Baby Naming and Couples.
I was trained in by Civil Ceremonies Ltd. Who are one of the top rated trainers and regulated by the government body OFQUAL.
I am a deeply spiritual person and believe in the concept of unconditional love. Love should be celebrated, and a ceremony is a great way to show that love. I created A Happy Ceremony for that reason to offer personalised ceremonies for my clients,
My motto is "Seal your love with a ceremony and a smile"
Some of the ceremonies I offer are
Wedding ceremony
Baby Naming
Scottish Hand fasting
Renewal of Civil partnership or wedding vows
Commitment ceremonies
Divorce ceremonies
I operate from Elgin in Moray, Scotland but prepared to travel anywhere in UK.
I was already travelling throughout the Uk and the Islands putting on shows for my work as A Happy Medium I had a lot of ceremonies booked but dew to the Covid 19 restrictions they have been rescheduled to next year.
Having been a public speaker for over 25 years I am a very confident speaker and I am often the one who you calms others down,  who are involved in the events I attend, also take charge when things don't go to plan, I use hummer, kindness and compassion, plus I use my empathy skills to assist you and your family.
I like to get to know a little about you so that I can make sure that your ceremony is personalised to make it unique to you both. You can have as much of your own input as you wish, on your Happy Celebration day. I love to connect with you and your guests so that everyone feels a part of the day and not just a spectator to it. We work together we make it unforgettable.
Here is some of what happens:
You find your dream venue or ask us for a recommendation
Contact us to hold your preferred date
Contact Registration office – Intent to marry
Book your signing day
Begin creating your unique and personal ceremony!
Whatever the occasion, I look forward to working with you to create a unique and personal ceremony, reflective of who you are and without any restrictions on location, content, format, or style.
My ceremonies are warm, personal, and relaxed, and can be as romantic and sentimental or as upbeat and quirky as you wish.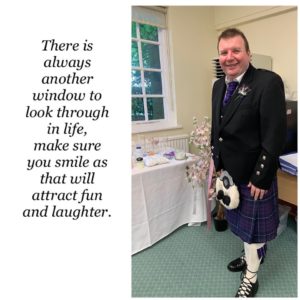 It's your day so let's make it really special and unforgettable for you.
Your Wedding Ceremony
I can officiate at a ceremony for couples of any gender that follows your legal marriage or partnership formalities, either the same day or some time afterwards.
You can share your love for each other with your family and friends, in the ceremony that you really want.
In Scotland just now only a Humanist Celebrant can legally marry you and you have to follow the Humanist format. You don't have to follow any format with myself as I am not tied to any Religion, but I am fully insured.
The law is hopefully changing soon where all trained celebrants will be able to legally marry, you can have the church minister, priest marry you or a register at or before your ceremony it's up to you.
Most of my clients just need to say to the register they want to get married but do not want the ceremony with the register, they then get a form to sign and the costs are low.
My ceremonies do not replace your legal formalities but are designed to be a perfect solution to many dilemmas.
If you can say "Yes" to any of the following situations,
the Wedding Celebration Ceremony is for you!
You want your ceremony in a private house or garden.
You want the ceremony outside, maybe in a marquee.
You want to get married abroad but also want to share your wedding celebration with friends and family when you return.
You want your ceremony in a particular venue that is not licensed for marriages or civil partnership.
You want religious or cultural traditions, which are not allowed at a Register Office or in a religious ceremony.
You want to include spiritual, religious, or symbolic elements with special meaning to you.
It is a Personalised ceremony that you design with My help, conducted in front of all your family and friends, in any location that you choose.
These ceremonies are for couples of any gender.
I also can provide PA systems etc as I use them for my other events.
Why Use us, For Your Happy Ceremony?
"Personalise the start of your wedding with a happy ceremony with words that are all about you."
With a ceremony led by Wedding Celebrant Derek McGillivray you can:
Choose Your Own Location
Your ceremony can be held anywhere!
It does not need to be licensed as the ceremony can be separate from your legal signing.
Choose Your Own Time
Celebrate at a time that suits you. Because normally only one ceremony a day is conducted, you can pick the time you REALLY want!
A Ceremony personalised to suit you
I get to know you so that he can convey your personal story to the guests to make this an unforgettable experience.
I am Fully Qualified and insured I also trained to offer A Naming Ceremony.
What is a Naming ceremony?
A Naming ceremony is an event at which a person or persons is officially assigned a name. Various countries participate in this practice, with methods differing over cultures and religions.
The timing at which a name is assigned can vary from some days after birth to several months or many years.
Your Naming Ceremony can be specially created using your own selection of words, poems and readings, either from the wide selection Derek can provide, or from other sources.
During the ceremony, a special commemorative certificate is signed and presented. There are many ways to make your child's ceremony a very personal, meaningful, and unique event for all those involved.
Derek can work with you if you still want your child to be baptised in a church etc and want a more personal naming ceremony afterwards. Very often a Baby naming Ceremony is asked for at the same time or before a wedding, especially if couples have children who are being adopted or changing names, it helps make the joining of families more memorable.
Apart from the normal Ring blessing, giving and ring ceremony you can also have lots of other symbolic acts within ceremonies.
The Handfasting Ceremony is probably requested most by the couples in Scotland,
You may have wondered where the expression to tie the knot comes from. It refers to the traditional Celtic ritual of Handfasting, which was recognised as the contract of marriage.
Handfasting may be unfamiliar to many of you so I will explain a little about it.
A hand fasting was originally more like an engagement or trial marriage, where two people would declare a binding union between themselves for a year and a day.
After a year went by they could separate or decide to permanently enter a full marriage, very often if there were no child or pregnancy this is what happened, Hand fasting was suppress in 664 but was still considered amongst many as a legal form of marriage in England until 1753 when it was outlawed.
In Scotland it continued until 1939, hence the stories of elopement to Gretna Green to be married over the anvil.
Candle Lighting
The Bride and Groom each light a candle each, to symbolise their separate lives before their formal union as a married couple. In a partnership of equals, such as the one which they have, each partner cares for the other through both the difficult times and the good times.
They will share the laughter and the tears, the joy, and the sadness, as well as the companionship and tranquillity of simply being together. But at the same time, they will continue to respect each other's individuality and uniqueness, and this is symbolised by the two candles.
The Bride and Groom then light a third candle symbolising the joining together of their lives in marriage.
The three candles will shine forth as symbols of both their togetherness and of their continuing individuality.
Elements Well Wishing
As a unique way to symbolise a union is to celebrate life's essential elements. A well-wishing is said to all the elements. Earth, Air, Water and Fire.
There are many ways of doing this, depending on where the ceremony is taking place.
Sand Ceremony
A marriage is symbolised by the pouring together of two individual containers of sand, representing the Bride and the Groom and all that they were, all that they are, and all that they will ever be. As these two containers of sand are poured into the third container, the grains of sand can never again be separated, as you will now be in their marriage.
Planting a Tree
The tree symbolises a Bride and Groom's hopes for the future as well as the beauty and wonder of life. Whether a tree grows to be tall and strong depends on the nurture it receives. No tree grows alone – they all need the soil, the sunshine and the rain. So too, a marriage needs to be nourished and a Bride and Groom will be there for each other through all the seasons of their life together – to support, love and nurture each other.
Exchange of Flowers
The language of flowers, has its roots throughout history. Using flowers to send a message probably dates to prehistoric times as symbolic use of flowers is mentioned in Egyptian inscriptions, in Chinese writings and in both Greek and Roman mythology.
And so, the bride and groom exchange white roses, which symbolize purity, charm and innocence.
Gathering of Flowers
As your guests arrive, present them with a flower. Each one of these flowers is different, each one is beautiful, and each one will add its own unique qualities to the bouquet that will made when they are gathered together.
All of your guests have each brought their own qualities to their relationships with you, their own beauty, their own colour and their own influence…
And now as they gather together for this most special of occasions, a nominated person will gather these flowers together, each flower representing their place in the bride and Groom's lives.
The beautiful bundle of flowers represents the colour and the beauty that each and every person brings into your lives, and with the placing of each flower, the bouquet changes, each flower playing its own part in influencing how the final bouquet will look and feel. This bouquet will now be the centrepiece of this ceremony, and the dinner and party to follow.
Gifts for Mothers
This wedding is also a celebration of family. It is the blending of families, separate up to this moment, but united from this day forward – blending their different traditions, strengthening the family tree. Mothers cry when their children hurt and welcome pain and burden to give their sons and daughters the gift of life.
The Bride and Groom, to honour this blending of families, present a rose to their mothers – to thank their parents for the many sacrifices they have made and for their unconditional love so freely given to their children.
There is so much more
Here is a list of symbolic gestures you may wish to consider for your marriage ceremony.
Candle Lighting
Elements Well Wishing
Sand Ceremony
Planting a Tree
Exchange of Flowers
Gathering of Flowers
Gifts for Mothers
The Mexican Hug
Release of Doves
Release of Butterflies
Release of Balloons
Wedding Band Warming
Heart Entwining
Do not forget some of these gestures can be used for the Baby naming ceremonies too.
Thank you for taking the time to watch this video and we also offer services to support you leading up to your big day, and even help you save money on your house hold bills from now, so, you can put that money towards your future instead.
Feel free to come in or have a chat on zoom, we could even do a ceremony over zoom until you can have that real special day, ironically, I have been asked lately for this already.
Check my website for more information
www.ahappyceremony.co.uk
Contact Derek McGillivray
Tel 07468119635
Email derek@ahappyceremony.co.uk
7 Mayne Road, Elgin IV30 1NY