Events
Derek and Angela's (his wife)  up and coming events, classes, and workshops.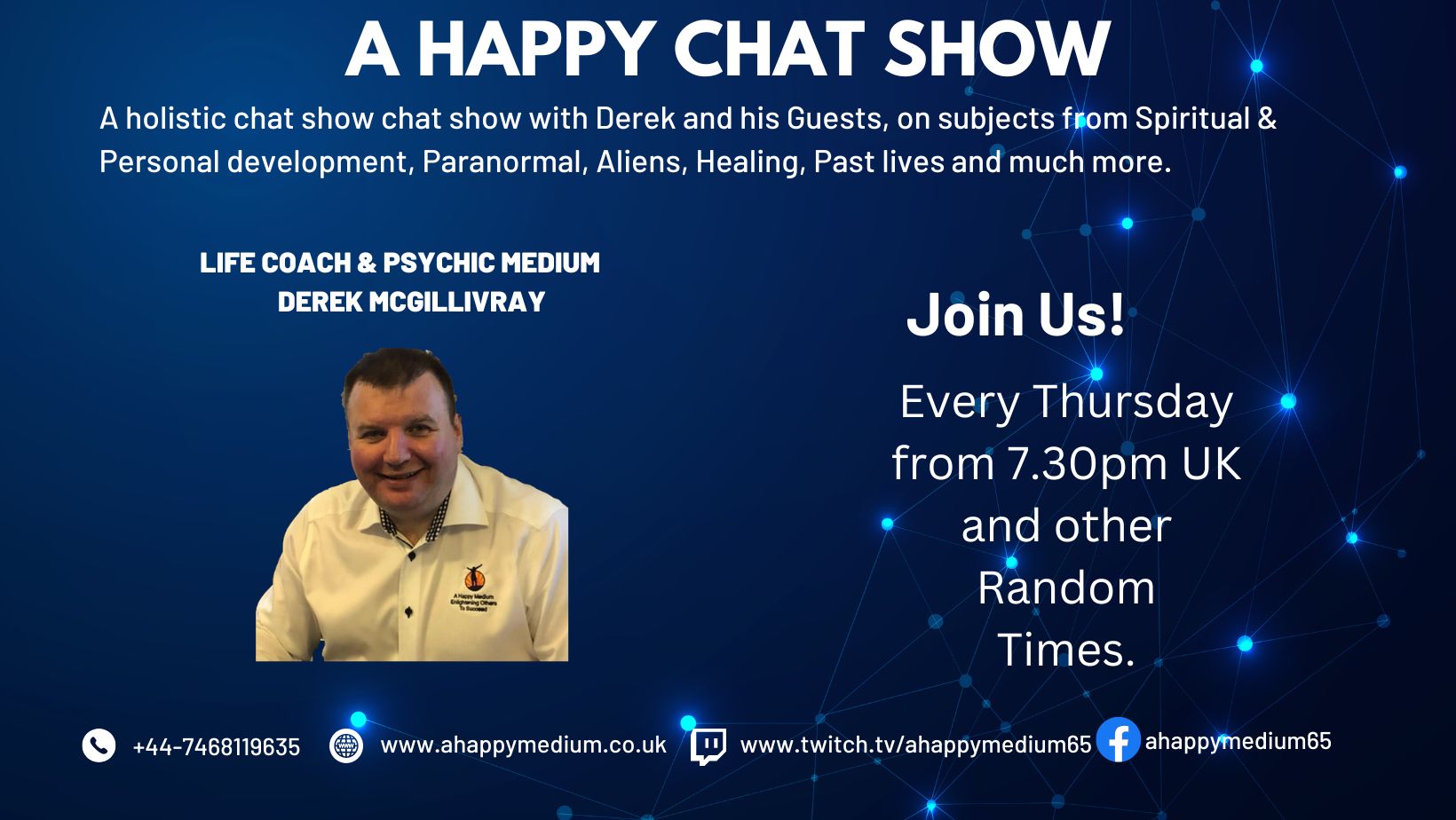 Live Streams on Twitch, YouTube, and Facebook.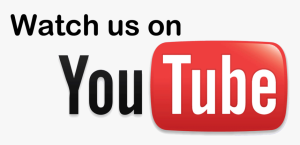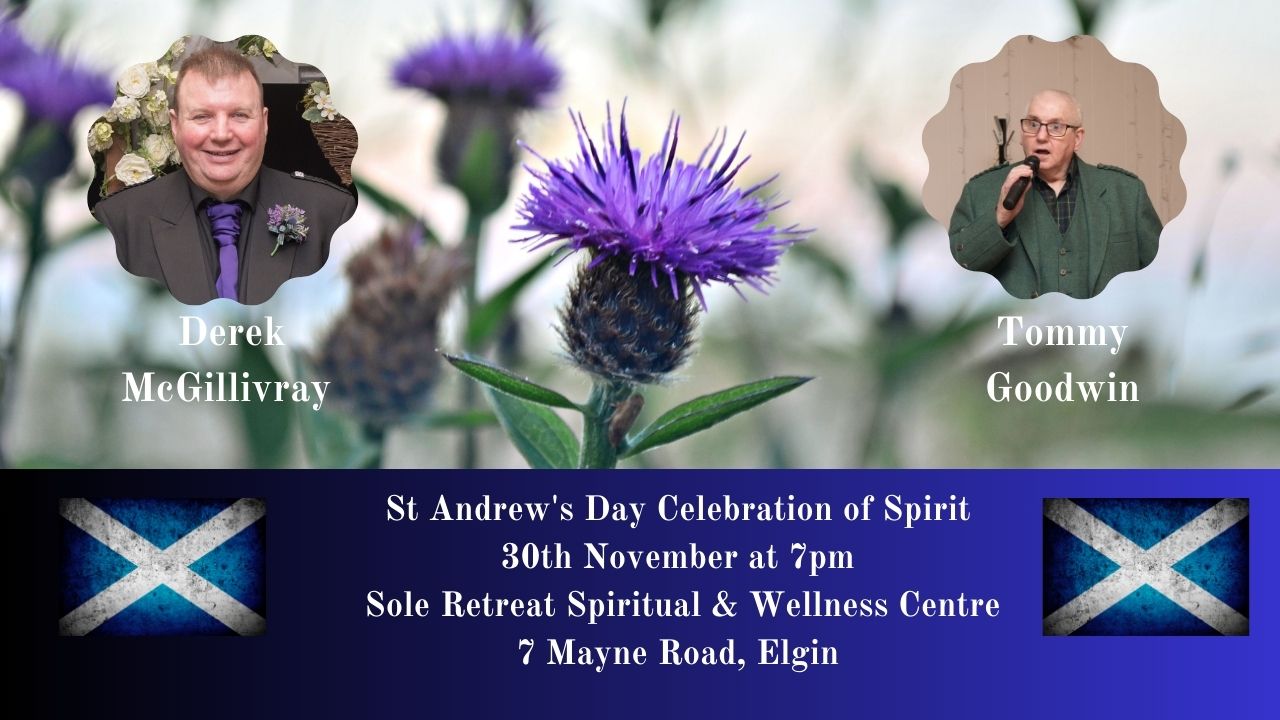 St Andrew's Day Celebration of Spirit at Sole Retreat Spiritual and wellness Centre
Join us for a heartwarming evening of mediumship on St Andrew's Day, November 30th, at our newly inaugurated space at Sole Retreat Spiritual and Wellness Centre, 7 Mayne Road, Elgin.
Hosted by the much-loved A Happy Medium, Derek McGillivray, and the astonishing Tommy Goodwin, this night promises to be a blend of comfort, laughter, and touching connections with the spirit world.
Celebrate Scotland's patron saint with an experience that weaves the traditional essence of St Andrew's Day with the profound messages from beyond.
 Event Highlights:
60 minutes of uplifting mediumship
Post-event mingle with tea and coffee
A sprinkle of Scottish tradition and fun Call or text 07468119635 to book
November 30th, St Andrew's Day
This is not just an event; it's a tribute to heritage and the bonds that transcend the physical world. Join us for a light-hearted journey with spirit.
Doors open at 7pm
 Donation: £10
Spaces are limited. Reserve your seat and let's honour St Andrew's Day in a truly special way.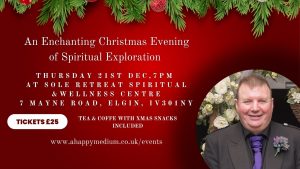 Join Our Enchanting Christmas Event on 21st December! Limited to 30 guests, book early for a night of spiritual exploration. A Night of Mystical Wonders: Experience an unforgettable evening of mediumship, clairvoyance, and channeling. Derek will connect with the spirit world, offering messages of love and guidance, and revealing hidden truths through his extraordinary abilities.Celebrate the Season Uniquely: Embrace the festive spirit in a gathering filled with wonder and connection. Enjoy tea, coffee, and Christmas snacks as you explore the profound mysteries of the unseen.Don't miss this limited opportunity to celebrate Christmas in a magical way. Book your spot now!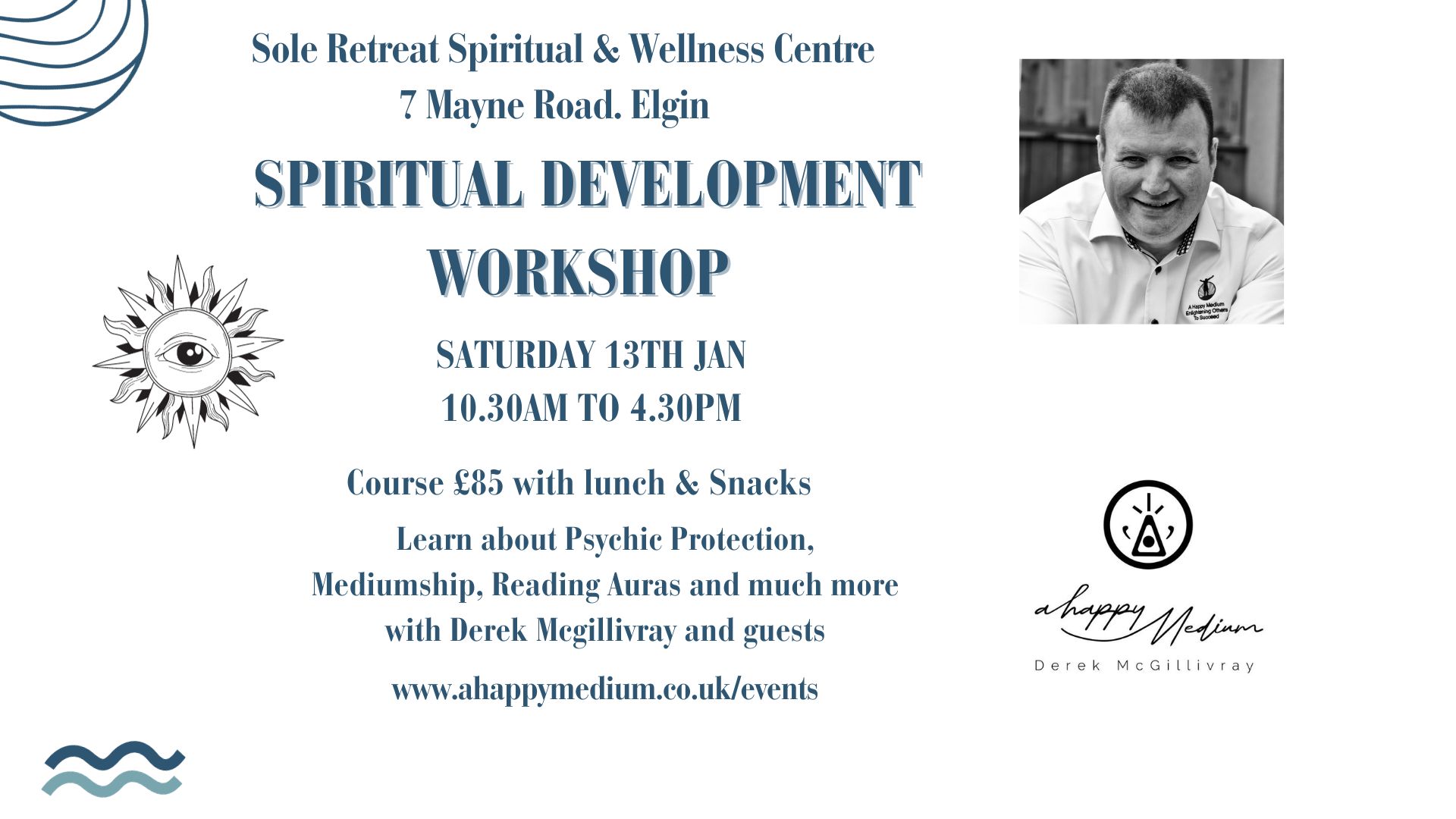 Spiritual Workshop with A Happy Medium Derek McGillivray
Learn how to heighten your Intuition, Psychic protection, Read Auras, Mindfulness, Mediumship, Channel information with cards.
Book before 16th Dec and get an Earlybird discount of £10%
if you are a patron member its 20% discount. just use the codes, Earlybird, and Member.
Come and spend a day with Derek McGillivray known as A Happy Medium and learn how to heighten your intuition, Read and feel Auras, Psychic protection, mediumship, and the use of other tools, take part in demonstrations and practice your own skills in a safe calm environment.
Derek will be assisted by Angela Mcgillivray who is also known as the Foot whisperer.
Angel-A Complementary Therapies with the Island Foot Whisperer both are very intuitive and are also complementary therapists with over 45 years of experience between them https://www.ahappymedium.co.uk/mind/developing-your-intuition/
Lunch of soup and sandwiches is included, vegan/ gluten free catered for.
Saturday 13th Jan 24
Derek and Angela
Course £85