Angel ~A Complementary Therapies with the Island Foot Whisperer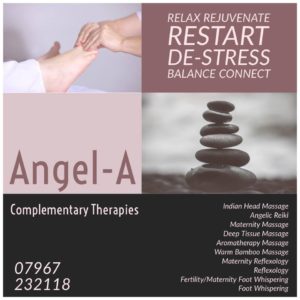 Angela McPherson
has over 11 years expertise in complimentary therapies,
she is especially well known for her Foot Whispering
, and is often called the
Island foot whisperer
after becoming well known in the Scottish Islands.
She now works alongside Derek, her treatment room is 7 Mayne Road, Elgin IV30 1NY and also serves clients in other areas.
Here are a sample of her reviews:
Not one for reviews(writing), but I was really interested in this whole foot whispering, already thought it was pretty amazing what can be done with reflexology so gave it a go and was absolutely blown away. It was awesome. I will def be back again. ST
Thank you so much for our foot reading party, we all really enjoyed it and looking forward to our next.
Thanks Angela, AM
An absolute joy to have a taster session
with Angela today in Montrose.
The foot whispering was amazing! This extremely gifted lady
has such a lovely way about her and the knowledge, guidance and healing I received was spot on!
I left feeling like I'm walking on air
and so excited for what's to come… Thank you 
🙏🏼
Love & Light, Tracey xxx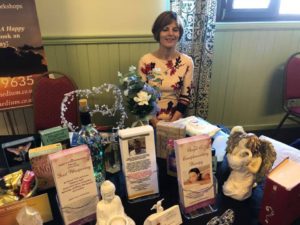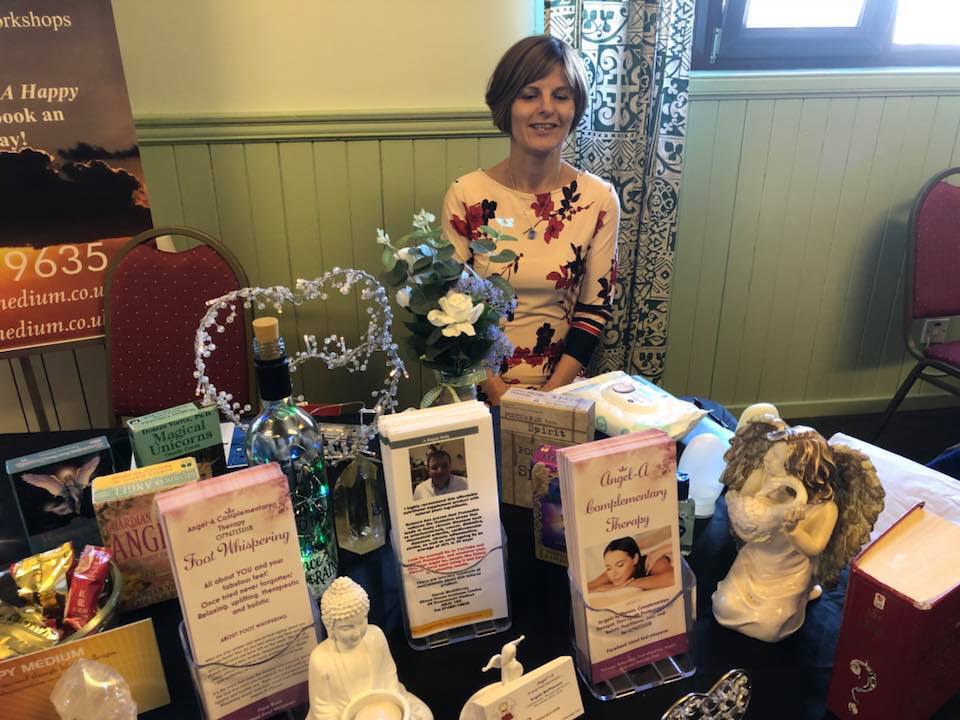 Foot Whispering/ Foot reading/ Foot medium
A unique, holistic, spiritual and therapeutic treatment which focuses on the feet and what your special foot print in life is saying about you, health and spiritual well-being. Includes relaxing reflexology and use of Angel cards. Walk forward in life with the heart and feet in unison. Angela has the ability to pick up mediumship while working on your feet.
Fertility/Maternity Foot Whispering
Foot whispering for those that are pregnant or trying to get pregnant.  Support with fertility issues, stress, anxiety and worry during pregnancy or prior to pregnancy, includes maternity reflexology.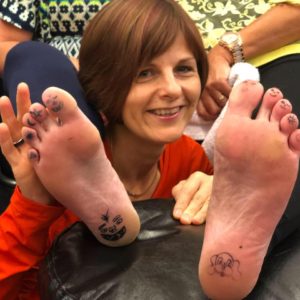 Foot whispering parties
A party with a difference – no plastic boxes involved! Invite a few friends around, some wine and nibbles and learn how special the feet are.  Foot art and foot whispering sessions for you and your guests.
Reflexology
Clinical and relaxing and therapeutic reflexology.  Helps to promote balance, improved well being and relaxation.  Used to treat a number of health conditions.  Includes meridian therapy.
General Foot Health
General foot health, nails cuts, hard skin removal and other feet issues covered
Indian Head Massage
Massage of the head neck and shoulders.
Ear Candles with a facial reflexology/ head massage/Reiki
Ear candles are hollow cones made of fabric covered in paraffin wax, beeswax, or soy wax. … Proponents of this treatment, called ear candling, the warmth created by the flame causes suction. The suction pulls earwax and other impurities out of the ear canal and into the hollow candle. Angela does a gentle balancing facial reflexology with Angelic Reiki. Deeply relaxing treatment beneficial for migraines/ sinus issues/ insomnia/ anxiety.
Facial reflexology
Facial Reflexology aims to relax and help remove stress by assisting the body to heal and re-balance itself. During facial reflexology gentle pressure is applied to the different reflex zones and reflexology points on the face. We believe these points directly relate to areas of the body.
Maternity Reflexology
A gentle and relaxing reflexology treatment maternity focused.  Regular treatments advised to help promote a healthy relaxed pregnancy and labour.
Deep Tissue massage – Deep and therapeutic massage to aid muscular discomforts and postural issues.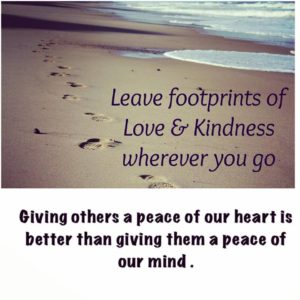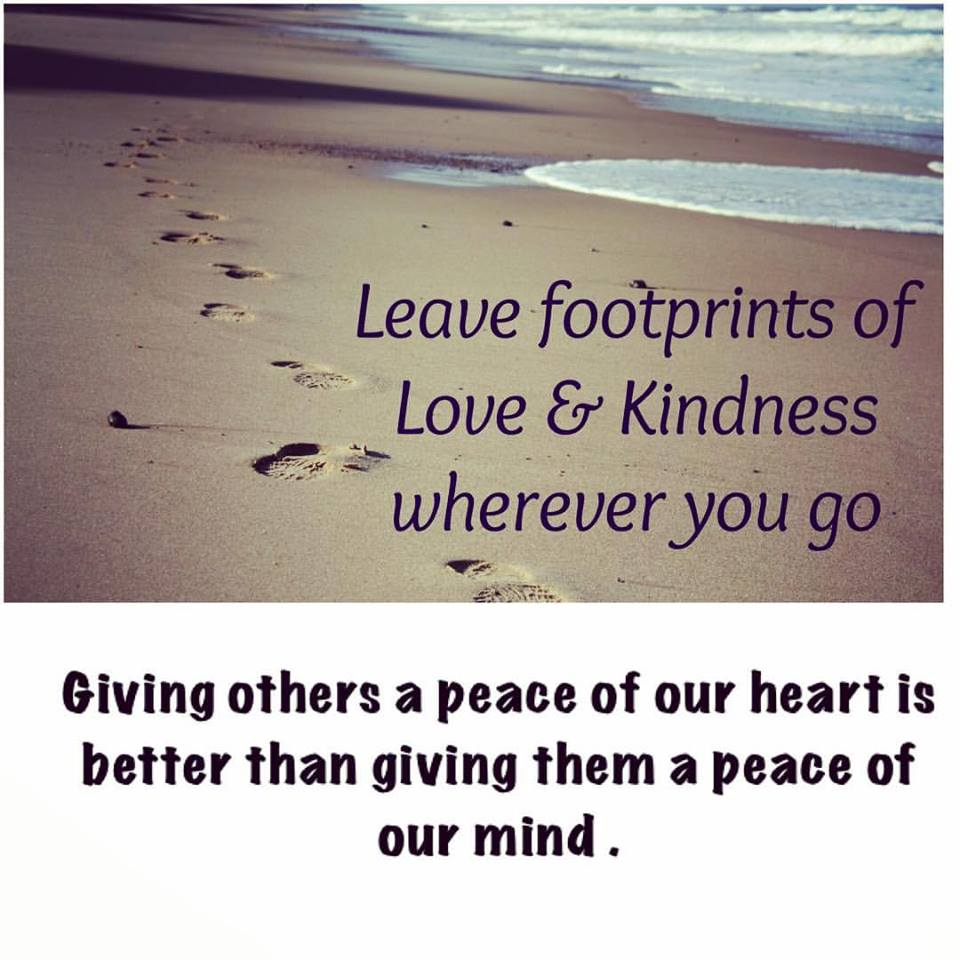 Warm Bamboo Massage -A warm, relaxing but deep and therapeutic massage using heated bamboo sticks.  Beneficial for sports injuries, muscle pain and discomfort.
Aromatherapy Massage – Gentle and deeply relaxing massage using aromatherapy oils.  Blends made up especially for the client's health and wellbeing requirements.
Deep Tissue massage –  Deep and therapeutic massage to aid muscular discomforts and postural issues.
Maternity Massage
A gentle but therapeutic massage for mums to be.  Massage to aid the postural changes and discomfort that can arise throughout pregnancy but also promoting relaxation, reducing stress and tension.
Angelic Reiki
Any Questions?  Just ask Angela
Call or Text  07967232118 or book here
or visit the "Island Foot Whisperer" on Facebook