Short Oracle Card Text readings on Facebook,Text to your mob or email

Why not try an Angel Card Reading posted to your Facebook or texted to your phone/ can also be emailed, Derek uses Messages From your Angels cards or cards hes drawn to help you now. These are done personally by Derek when he's available and in a quiet space, so he can focus on your reading, he will try and get them back to you within 7 days.  The message will be texted, emailed posted on Facebook to you with a small summary. (Please let him know where you want it posted when you pay by Paypal
Derek does a 5 card reading for £10 you can book this from the link below, great for a birthday present.
Click here to book a card session with Derek.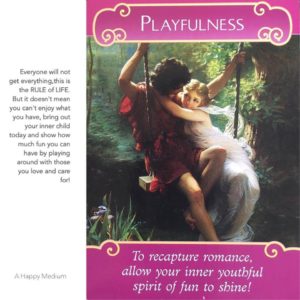 Feel free to ask a question when ordering a reading and he will try his best to answer, He takes photos of each card so you can see them yourself, it must be pointed out that by law we must say this is entirely for entertainment purposes. It's a great wee birthday present to give to your friends and family.
Customers comment:-
Ive been to see Derek's demonstrations a few times, never disappointed and always amazed at how accurate he can be.. Well worth going to see. His small angel reading are also fab at a great price. Keep up the good work Derek Xxxx Angela M
Would highly recommend Derek, he is wonderful. xx
 Ann Garnett
You have to book Derek he's so good at he work he does. You will not be disappointed
Ann McGuire
Derek pulled an Angel card from the Angels of light cards by Diana Cooper.  Its says  with the Title Archangel Uriel.

Archangel Uriel works on the ruby ray which is made up of purple and gold. it is the ray of wisdom and spirituality.
You are blessed to attract this angel card for he will bring you serenity, love, tranquillity and peace, you in your turn are invited to spread these beautiful qualitues to others.

Connecting with archangel Uriel will enable you to aspire to oneness with all humanity. this is a high state of grace which will bring you freedom and joy.
Visualise yourself in a purple and golden cloak and invoke Archangel Uriels help to raise your consciousness,
My Affirmation is I am one with everyone in peace and serenity.

Fantastic card for me I love the purple and it is the sign of inutition, so looks like I will have to carry on helping you all as thats me been told lol.
If you would like one of these cards with a small summary from Derek for a small fee of £10 click button below and he will post to Facebook or text/ email its also a great gift to give to a friend or family member.
Angel Crystal says have faith and hope because there is something positive and new on the horizon that you cant see yet, feel thereis something going to happen soon but you have to remain positive, feb the 12th stands out ,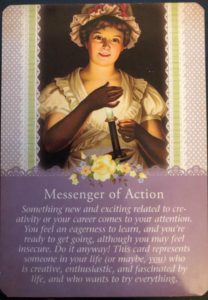 Angel mystique says keep charging ahead and don't take no for an answer expect miraculous solutions to appear, someone is talking you down but don't listen to them, go with your gut feelings and stand yourground,
Angel Daniel says I am the angel of marriage and I am assisting you right now, feel your stressed a bit and this is affecting your relationships watch your moods and think before you speak, see April being a great time for you a small trip to some where romantic, look for signs from above as feel someone around you in spirit is trying to connect feels female and motherly think she died with chest pains she there giving you support there a picture in a roundframe of her.
Derek x
Customer feedback
Derek, spot on waiting for local Council to rehouse us in a more suitable property,February 12th seems about right for Occupational Therapist to visit us…been waiting for a yes answer since June 2011.Stress has been very high have been having Panic Attacks since October which have been dreadful, and relationships have suffered with my son and others around me, my moods have been awful….the female would be my mother, she died from pneumonia.she has been healing me. Not sure who has the photo in a round frame of her but it could be my sister who's got that.
Thank you so much you were spot on and so accurate, Would like to have a more indepth reading with you when you have time…
Love Barbara xxx
Derek also does Live phone, skype readings/ chat on facebook or MSN using a range of cards other than Tarot cards.
Starting from £40 for 30 mins to £70 for 60 mins