Details of Forthcoming Events
Derek is well known for his positive attitude with years experience conducting live shows around the UK, demonstrating his natural skills, such as Mediumship, Clairvoyance , Numerology, Past life regression, Spiritual awareness, Card readings and much more, in fun and interactive shows.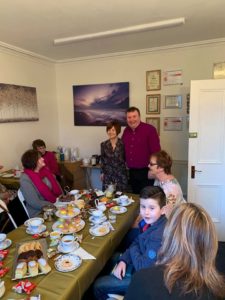 Derek and Angela welcomes you to a Mind, body and soul event in their new premises in Mayne road Elgin
Both will talking about their Therapies and demonstrating some of their unique gifts.
Derek is a well known Psychic medium, intuitive Life Coach and Past Life Regression therapist, also known nationally in magazines and TV.
Angela, who is also known as The Island Foot Whisperer, is also a highly respected and experienced Complementary Therapist and Foot Health Therapist. In her practice, she uses her unique intuitive abilities to promote balance, improved wellbeing and relaxation to assist clients with a happy and fulfilled life.
Angela and Derek have both come together for this Soul to Sole therapy day,
(This is a Free event) which will consist of talks, demonstrations, complimentary refreshments and time to have question and answer sessions on the work that is done within Sole Retreat.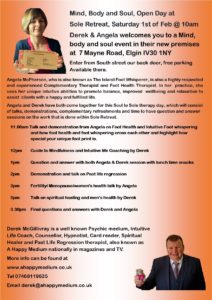 11.00am Talk and demonstration from Angela on Foot Health and Intuitive Foot whispering and how foot health and foot whispering cross each other and highlight how special your unique foot print is.
12.00 Guide to mindfulness and intuitive Life coaching by Derek
1300 Question and answer session with lunch time snacks
1400 Demonstration and talk on past life regression
1500 Fertility/ Menopause/women's health talk by Angela
1500 Talk on spiritual healing and men's health by Derek
1530 Final questions and answers with Derek and Angela, summing up of the day.
Psychic Night with A Happy Medium @Mosset Tavern, Forres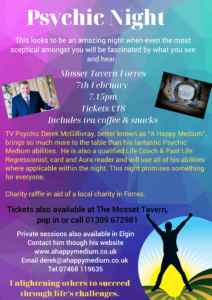 Friday 7th Feb Doors open at 7pm
Tickets £18 which includes half time tea/coffee and snacks
Pop in to or call
Mosset Tavern
Gordon St
IV36 1DY Forres
01309 672981
If you would like a private session with Derek he is based in Elgin the contact him through his website www.ahappymedium.co.uk
Email derek@ahappymedium.co.uk
Tel 07468119635
Sessions with A Happy Medium in Aberdeen
In Aberdeen. 42 Prospect Terrace AB117TD
13th to 14th Dec .
In Turriff
Cloud 9 Complementary Therapies, 37A Main Street Turriff AB53 4AB
30th October from 11am to 4pm contact Fiona Tulloch on 075080266061
Workshops
Get Inspired by Attending One of Derek's Workshops.
Derek runs many workshops on positive thinking and personal development. These workshops can be done in workplaces, halls, schools etc…
Next workshop

LOOKING FORWARD WITH POSITIVE THOUGHTS. WORKSHOP.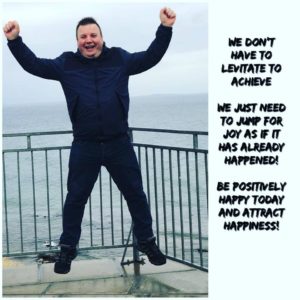 Get Motivated for 2020
Starts 9.30 am Saturday 15th Feb this is first of many workshops to come on Personal & Spiritual development at Sole retreat Back door of 7 Mayne Road Elgin, parking available enter from south Street.
Life Coaching Workshop, by Intuitive Life Coach Derek McGillivray let him help you find A Happy medium in your life.
Change what makes you sad whether relationship, financial hardships, stresses, the wrong job etc… Get rid of the limiting beliefs you have.
Let Derek help you with some great tools, CBT, mindfulness, learn to put yourself first with advice and years of experience of life coaching & business mentoring.
Get that balance back in your life and learn to set S. M. A. R. T. Goals for the future. Don't just talk about it, Do it!!
Agenda
10.am -10.30am Talk about relaxing, mindfulness and meditation
10.30 – 10.45 am break
11am -12.30pm Learn to set goals using the SMART goals mythology
12.30pm to 1.15 Lunch
1.15pm to 3pm Overcoming obstacles, dealing with rejection, learning new behaviours and deleting negative thoughts.
3pm to 3.20pm Break
3.20pm -4.30pm learn to delegate, and apply lessons learned using positive affirmations, plus questions and answers to Derek
There will be snacks and drinks etc
Course cost is £50
click link below to book, spaces are limited
https://positivethinkingworkshopelgin.eventbrite.co.uk
Developing your intuitive side with A Happy Medium Derek McGillivray Saturday 22nd Feb 2020 at 9.30am
As part of our Lapwing Lodge sleepover for Scottish Ghost Nights at
Scottish Ghost Nights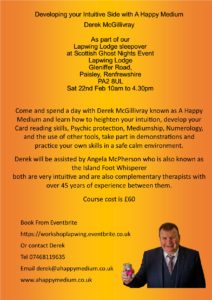 @scottishghostnights.co.uk
Lapwing Lodge
Gleniffer Road, PA2 8UL Paisley, Renfrewshire
Derek will be running a workshop on the Saturday 22/02/20 from 10am to 5pm
Come and spend a day with Derek McGillivray known as A Happy Medium and learn how to heighten your intuition, develop your card reading skills, Psychic protection, mediumship, numerology, and the use of other tools, take part in demonstrations and practice your own skills in a safe calm environment.
Derek will be assisted by Angela McPherson who is also known as
AngelA Complementary Therapies with the Island Foot Whisperer
both are very intuitive and are also complementary therapists with over 45 years of experience between them.
Course cost is £60
https://workshoplapwing.eventbrite.co.uk
Agenda
9.30am- 10am meet and greet
10am – 11am Mindfulness and relaxing meditations
11am to 11.20am Tea break
11.20 am – 12.30 pm Reading auras and the use of colours, psychic protection and grounding.
12.30 pm to 1.30 pm lunch bring your own
1.30 pm to 3 pm Learn how to use and improve your intuition / readings with the use of tools.
3pm to 3.20pm Tea break
3.20pm to 4.30pm Talk on mediumship / channelling from spirit and practice demonstrations.
Some reviews from past workshops.
Attended a Mediumship workshop with Derek, & was simply amazed throughout the whole day as Derek brought out of us abilities for learning to bring through messages for others, lovely group of people & making new friends. Great & patient man highly recommend a reading from as well. Derek, thank you x LM
Loved today! Such a great workshop with lots of lovely people! Thank you Derek
A Happy Medium
@ahappymedium65
TV Psychic Derek McGillivray known as A Happy Medium is now based Elgin will be available for home visits/parties etc.
Sole Retreat 7 Mayne road
Elgin
IV30 1NY
Email derek@ahappymedium.co.uk 
Tel or text 07468119635 or 01224 659291
Sessions from £40
Derek can be available for home visits and house parties in the area
Call or text Derek on 07468119635
Gift vouchers are available and can be posted free of charge. Phone 074681 19635 to book email derek@ahappymedium.co.uk discounts for groups and regular clients.