Details of Forthcoming Events
Derek is well known for his positive attitude with years experience conducting live shows around the UK, demonstrating his natural skills, such as Mediumship, Clairvoyance , Numerology, Past life regression, Spiritual awareness, Card readings and much more, in fun and interactive shows.
Tea leaf reading Party with Derek & Angela @Sole Retreat Elgin
Do you remember getting your tea leaves read by your Granny? We do.
After the success of our first tea leaf reading party afternoon, where we also did Angel card readings and some mediumship. 
We had lovely cakes and old fashioned tea.
not one person used their phone, they all got engrossed in the tea leaves and had great fun reading their own and others tea leaves with guidance from Derek and Angela.
Thank you Angela and Derek for a great afternoon which I am sure was enjoyed by everyone that attended.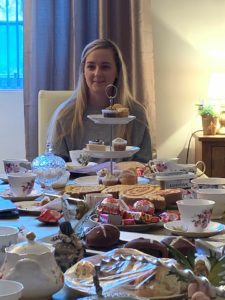 My tea leaf cup reading and single card reading was quite amazing and so true. We done a short meditation and I was with my Dad in a wee more like a van than a car received a gift of a red heart in a wooden box from him.Thanks for the cakes , scones etc and making everyone feel so welcome was just magic xxx MF
We have been encouraged to run more afternoons and can also visit other establishments or family homes.
Next Event is on April 5th book on eventbrite  https://tealeafreadingpartyelgin.eventbrite.co.uk 
May the 9th https://tealeafreadingpartyelginmay.eventbrite.co.uk
Any problems please call us we can cater for Gluten free as well. You can bring you own cakes too.
I have set up a web page https://www.ahappymedium.co.uk/soul/tea-leaf-readings/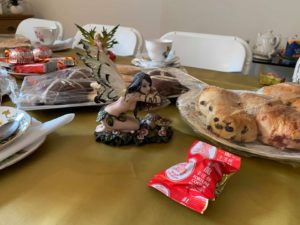 These events have limited availability to so book early!
Event cost is £20 plus booking fee. 
Sole Retreat 
7 Mayne Road
Elgin
IV30 1NY
Medium Night with TV Psychic Derek McGillivray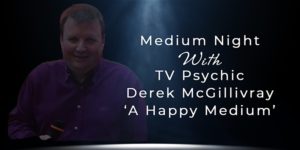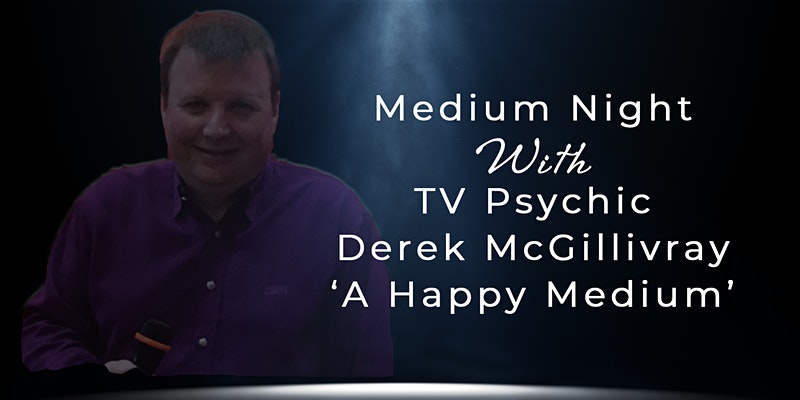 About this Event on Friday 13th March
Join us at The Mill House Hotel for an evening with Derek McGillivray.
TV Psychic, Derek McGillivray was given the nickname of 'A Happy Medium' by friends and locals in the Highlands and Aberdeen shire area after demonstrating his amazing psychic abilities and the fact that he is a very positive and inspiring life coach.
Derek is a very sought after Psychic Medium with events throughout the OK, appearing on national TV and featured in Magazines.
A Pre Event Menu is also available to be served from 6pm.
2 Courses £15 | 3 Courses £20
There is plenty of FREE parking and easy access.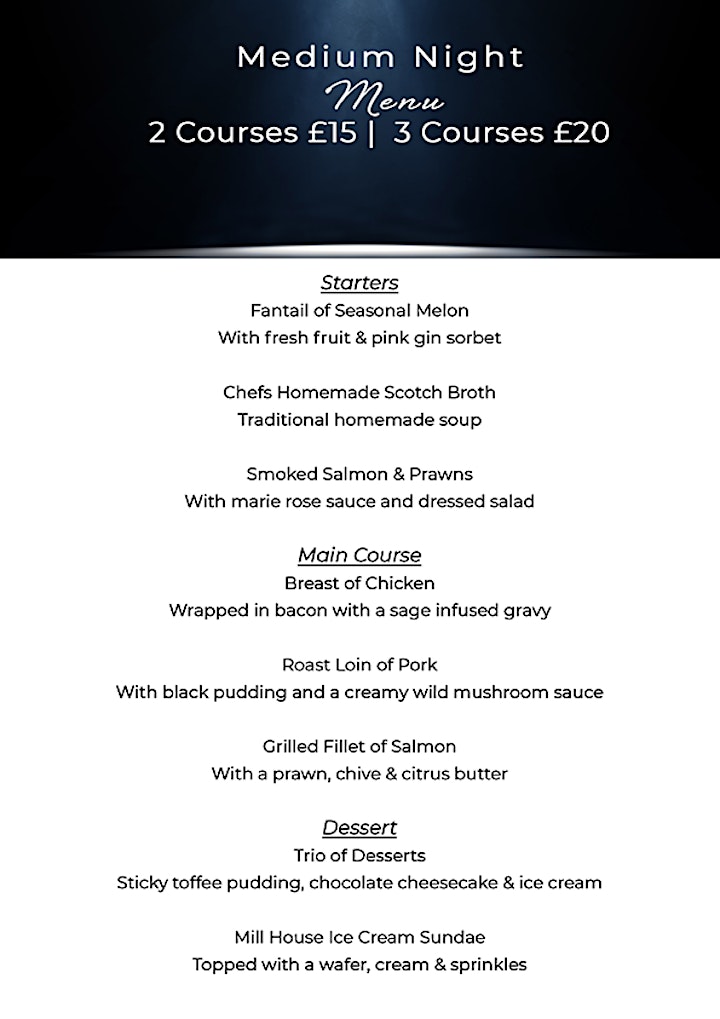 The Mill House Hotel, A98, Bridge of Tynet, AB56 5HJ View Map
Sessions with A Happy Medium in Aberdeen
In Aberdeen. 42 Prospect Terrace AB117TD
6th to 8th March
Sessions with A Happy Medium in Turriff
Cloud 9 Complementary Therapies, 37A Main Street Turriff AB53 4AB
13 May from 11am to 8pm contact Fiona Tulloch on 075080266061
Workshops
Get Inspired by Attending One of Derek's Workshops.
Derek runs many workshops on positive thinking and personal development. These workshops can be done in workplaces, halls, schools etc…
Next workshop
Spring Clean your Thoughts workshop.
Get Motivated.
Starts 10 am Saturday 30th May this is first of many workshops to come on Personal & Spiritual development at Sole retreat Back door of 7 Mayne Road Elgin, parking available enter from south Street.
Life Coaching Workshop, by Intuitive Life Coach Derek McGillivray let him help you find A Happy medium in your life.
Change what makes you sad whether relationship, financial hardships, stresses, the wrong job etc… Get rid of the limiting beliefs you have.
Let Derek help you with some great tools, CBT, mindfulness, learn to put yourself first with advice and years of experience of life coaching & business mentoring.
Get that balance back in your life and learn to set S. M. A. R. T. Goals for the future. Don't just talk about it, Do it!!
Click link below to book, spaces are limited
https://positivethinkingworkshopelgin.eventbrite.co.uk
Developing your intuitive side with A Happy Medium Derek McGillivray Saturday 22nd Feb 2020 at 9.30am
As part of our Lapwing Lodge sleepover for Scottish Ghost Nights at
Scottish Ghost Nights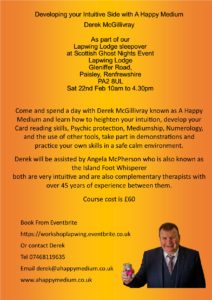 @scottishghostnights.co.uk
Lapwing Lodge
Gleniffer Road, PA2 8UL Paisley, Renfrewshire
Derek will be running a workshop on the Saturday 22/02/20 from 10am to 5pm
Come and spend a day with Derek McGillivray known as A Happy Medium and learn how to heighten your intuition, develop your card reading skills, Psychic protection, mediumship, numerology, and the use of other tools, take part in demonstrations and practice your own skills in a safe calm environment.
Derek will be assisted by Angela McPherson who is also known as
AngelA Complementary Therapies with the Island Foot Whisperer
both are very intuitive and are also complementary therapists with over 45 years of experience between them.
Course cost is £60
https://workshoplapwing.eventbrite.co.uk
Agenda
9.30am- 10am meet and greet
10am – 11am Mindfulness and relaxing meditations
11am to 11.20am Tea break
11.20 am – 12.30 pm Reading auras and the use of colours, psychic protection and grounding.
12.30 pm to 1.30 pm lunch bring your own
1.30 pm to 3 pm Learn how to use and improve your intuition / readings with the use of tools.
3pm to 3.20pm Tea break
3.20pm to 4.30pm Talk on mediumship / channelling from spirit and practice demonstrations.
Next Developing your Intuitive Side with A Happy Medium
is at Sole Retreat, 7 Mayne Road, Elgin, IV30 1NY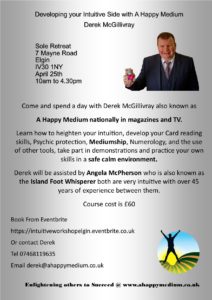 April 25th, 10am to 4.30pm
Book From Eventbrite, https://intuitiveworkshopelgin.eventbrite.co.uk
Or contact Derek
Tel 07468119635
Email derek@ahappymedium.co.uk
Some reviews from past workshops.
Attended a Mediumship workshop with Derek, & was simply amazed throughout the whole day as Derek brought out of us abilities for learning to bring through messages for others, lovely group of people & making new friends. Great & patient man highly recommend a reading from as well. Derek, thank you x LM
Loved today! Such a great workshop with lots of lovely people! Thank you Derek
A Happy Medium @ahappymedium65
Enter from our back door from South street and you can park in our carpark free.
Contact Derek on 07468119635 or email derek@ahappymedium.co.uk to book
TV Psychic Derek McGillivray known as A Happy Medium is now based Elgin will be available for home visits/parties etc.
Sole Retreat 7 Mayne road
Elgin
IV30 1NY
Email derek@ahappymedium.co.uk 
Tel or text 07468119635 or 01224 659291
Sessions from £40
Derek can be available for home visits and house parties in the area
Call or text Derek on 07468119635
Gift vouchers are available and can be posted free of charge. Phone 074681 19635 to book email derek@ahappymedium.co.uk discounts for groups and regular clients.